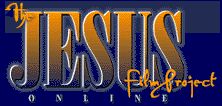 Watch the full-length movie "JESUS."
Join the millions who have witnessed the majesty of "JESUS" and whose lives have been changed forever. Filmed entirely on location in Israel, "JESUS" lets you feel a part of history in the making. "JESUS" is more than a story. Virtually every word spoken by Christ comes from the biblical text of the Gospel of Luke. This two-hour film epic will personally challenge you.
In order to view the "JESUS" film you will need RealPlayer. If you don't have RealPlayer you will be able to download a version of RealPlayer at this site for free... This epic comes in four parts so it is easy to watch, over and over and over again.
Click below at the link provided to begin this exciting journey back in time..... 2000 years ago....
View "JESUS" Online
View the "JESUS" film online in it's entirety!

Listen to The "JESUS" Audiodrama
"The Story of Jesus," the audio drama version of the "JESUS" film. Listen online!


Home
---