"...they will fall down before Him who also sits on the throne, and will cast their crowns before the throne saying,

'Worthy art Thou, our Lord and our God, to receive glory and honor and power; for Thou didst create all things, and because of Thy will they existed, and were created."
Revelation 4:10-11



It has truly been a blessing to receive these wonderful awards from our peers on the web and with thanks they are displayed here.

We know that God is behind each of these awards and we want to give Him the Glory and Honor for that which we've received...

One day we will cast our crowns before His throne for all that He has done... And so, we place these awards "At His Throne"...

We give God the Glory...

To visit these awarding sites, click on the award...


<!- Adjust this width->
February 17th, 1999

I was very impressed by all the hard work you have put into the site and have to congratulate you on a wonderful achievement in web site design, both in appearance and content. May the Lord bless all that you do which brings glory to Him in your ministry and via your internet site.
I have enclosed all three of our awards for your site.
To God be the Glory, Ben
---

You've won the Holyman's E.G.K web award!! You can read more about the award by clicking here: http://www.rftpsermons.com/

February 18th, 1999

This page is still under construction, as all families are! It is a good site, well designed with great family taste. Mike has posted a good page on salvation through Jesus Christ. This page is worth you while to visit. Bob

http://scan.missouri.org/~aubuchon/egkwinners.html

Bob's "Holyman's Web Page" is definitely worth your visit !
http://scan.missouri.org/~aubuchon
---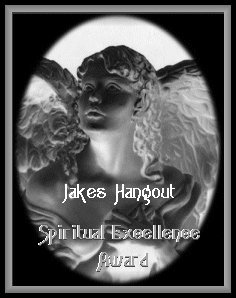 April 15th, 1999

Good Afternoon, My name is Jake from Jakes Christian Hangout. I surfed into your website and I'm so totally impressed with your love of God I wanted to give you our Spiritual Award. Please accept in Gods honor and if you'd like link it back to our site. God Bless and keep you and visit our site if you get the chance.
Your little brother in Christ, Jake

Jake's site is definitely a must see !
http://www.freeyellow.com/members6/jakegunter/index.html
---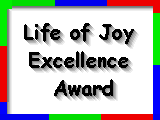 Visit "Life of Joy" by clicking on the award above !

May 16th, 1999

Greetings in the Lord Jesus Christ, Your web site has been awarded our Life of Joy - Site of Excellence Award. This award is given to web sites of particular excellence that honor Jesus Christ. God has obviously blessed you in your effort to reach His children through your web site. Your site is exceptional and a blessing to all who visit.
May God continue to bless you and your exciting internet ministry.

All our love in Jesus Christ,
David and Molly Kistner
Life of Joy
"And this I pray, that your love may abound yet more and more in knowledge and in all judgment; That ye may approve things that are excellent; that ye may be sincere and without offence till the day of Christ; Being filled with the fruits of righteousness, which are by Jesus Christ, unto the glory and praise of God." Philippians1:9-11

http://homepage.dave-world.net/~kistners/
---


Visit "The Garden of Eden" by clicking on the award above !

May 16th, 1999

You are the Newest Winner of the "Eden Award of Excellence!"
...and if you would like to display the "Web Life" award you may.

"Your site went above and beyond the qualifications for this award. I consider your site to be excellent in all qualities: graphics, HTML usage, and navigation ease. I was especially impressed with your "Knowing Jesus" pages, they're awesome! Congratulations on an excellent job! We thank you for your excellence!"

Thank you again!
In Christ,
Mark Fulton from "The Garden of Eden"
---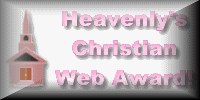 Receiver of a Heavenly Christian Website Award - Award for an exceptional Christian Page on the Web
August 19, 1999
---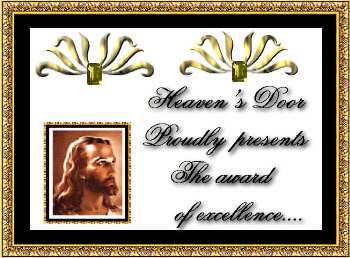 Receiver of a Heaven's Door Award for Excellence
March 9, 2000

My husband and I have just visited you beautiful web site and we would be honored if you would accept our award. We feel that it is a blessing to be able to do anything for the Lord. When you have time please stop by our web site and take a look at the beautiful free love gifts that God has blessed us to distribute.Praise the Lord!... All glory belongs to Him alone….
God bless, Rev. Bradley & Karen Showell
---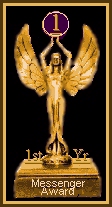 Forever Lifting the Name of Jesus Award

February 20, 2001
---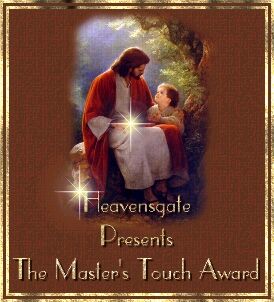 The Master's Touch Award
April 3, 2001
---